Sneak Peak at Freshkills Park, Sunday, October 2nd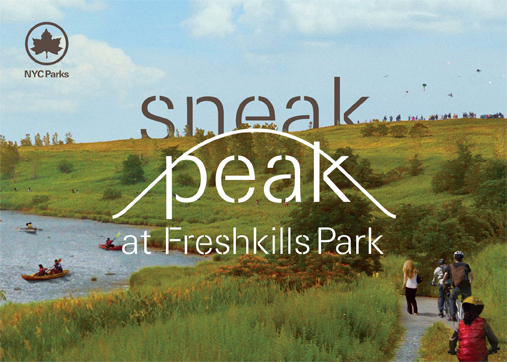 Last year's Sneak Peak at Freshkills Park was such a huge success that we decided to make it an annual event as we continue to develop the park site.  This year, we have expanded the scope and the offerings of what you will be able to do and see at Sneak Peak.
This year's event offers nearly three miles of walking path and over two miles for those who bring bikes to explore.  There will be more kayak tours, numerous public artworks and performances, more food trucks, a full craft market, a smartphone self-guide app and free shuttle bus service to and from the St. George Ferry Terminal.  Join us for a preview of what the park will have to offer!  Full details available on the event's web site.
Sneak Peak at Freshkills Park
Sunday, October 2nd, 2011 | 11am-4pm
FREE | How to get there