Schmul Park breaks ground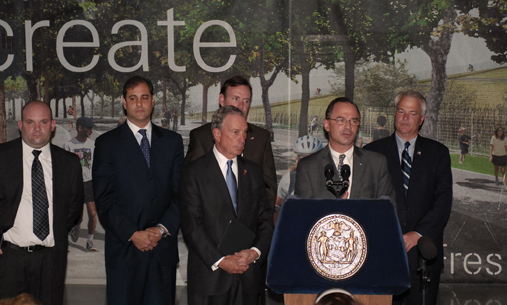 Yesterday, Mayor Michael Bloomberg and Parks Commissioner Adrian Benepe broke ground on the second project in the development of Freshkills Park, the $6.5 million renovation of Schmul Park.  (The 28-acre Owl Hollow Fields were the first project.)  An 8-acre park in the Travis neighborhood, Schmul Park will serve as a community gateway into the larger Freshkills Park.  It includes a new playground with a spray shower, handball and basketball courts, a lawn area, native plantings and permeable pavement, a rain garden and new comfort station designed by BKSK Architects.  The renovated park is expected to open in Fall 2011.
It's exciting to finally be holding groundbreakings on this project.  We're hoping to break ground on North Park, Phase One next year.