Robert Moses on Flushing Meadows Park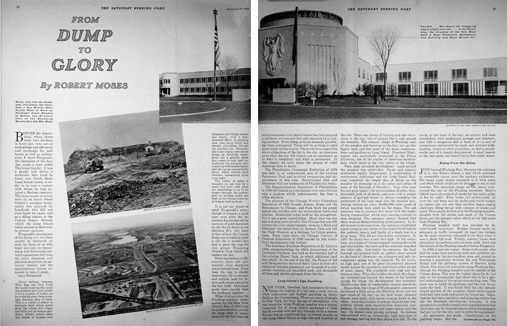 Another gem from the archives: an article in the Saturday Evening Post from 1938 written by Parks Commissioner Robert Moses extolling the then-in-process transformation of the City's Corona ash dump into the stately Flushing Meadows Park.  We're reminded of how much the outline of the story prefigures Freshkills Park, where Moses, himself, was the catalyst for landfilling operations, with the endgame of constructing housing, parkland and industrial space.
Flushing Meadows was once an array of tidal marshes abundant with salt hay whose brackish waters hosted boating and swimming. The site then operated as a dump for over 26 years, collecting 50 million cubic yards of ash and waste from Brooklyn, all while local opposition mounted.  It was Moses who spearheaded the effort to level the site and to build a park there, with the idea to finance its construction through its hosting of the 1939 World's Fair, after which the fairgrounds would turn over into parkland. The story ended up differently—development protracted over decades and another World's Fair for lack of funds—but it's fascinating to read Moses' own words here, advocating for this early landfill-to-park project. The story of New York City large-scale park development is always long and winding, and stories like this one help us keep the Freshkills Park project in perspective.