On Board Swale, a Floating Food Forest
Written by Savannah Lust, Freshkills Park Development Intern.
Bok choy and mint are ripe for the picking aboard Swale, Mary Mattingly's floating food forest project that is docked at Yankee Pier on Governor's Island until September 15th.
Mary Mattingly is a New York City based visual artist who proclaims in her Manifesto that "art and utopian thought" are capable of cultivating "systematic social change." Mattingly locates her work in the impugning of "predominant ideologies," particularly systems of exchange and waste production. To challenge these ideologies, Mattingly creates self-sustaining "sculptural ecosystems in urban space" that work to replace the dominant structures with "flexible and inclusive schemes for living that encompass respect, non-hierarchy, nonviolence, and tolerance." These new ways of living can be seen in her past projects, such as WetLand (2014), Triple Island (2013), and Flock House Project (2012).
Swale, Mattingly's newest project, began with an "almost utopian" question, as she tells Tech Insider: "What if healthy, fresh food could be a free public service and not just an expensive commodity?" Built from reclaimed shipping containers from the Port of NY and NJ, Swale is a 130 by 40 ft barge that houses "an edible living system." Annuals and perennials such as gooseberries, lemon balm, yams, and strawberries co-habitat the garden beds and are irrigated by a mix of rain and river water, filtered on board. Collaborating with community groups, students, artists, and the US Coast Guard to bring Swale to life, the project opened to the public in July at Concrete Plant Park in the Bronx. This month, Swale will be docked at Governor's Island and will eventually move to Brooklyn Bridge Park in September. Visitors are welcome aboard to pick, for free, their own food, reversing the notion that food is a commodity rather than a public service.
The sky was heavy when I visited Swale, threatening an eventual rain. Someone remarked that being aboard Swale felt akin to being on an isolated island, as Swale's infrastructure partially shielded New York City's skyline. Yet, the barge rocked back and forth on waves produced by passing ferries, a constant reminder that we were, indeed, on the water. Seemingly melodic fog horns threaded in and out, providing a soundtrack to our visit. Rita, a collaborator onboard Swale, stood near a banana plant with its large tropical waxy leaves bobbing in the breeze, and showed how to propagate roots on a freshly cut sprig of rosemary. A sign encouraged visitors to bring a plant when visiting, sharing in Swale's interdependent and co-created story.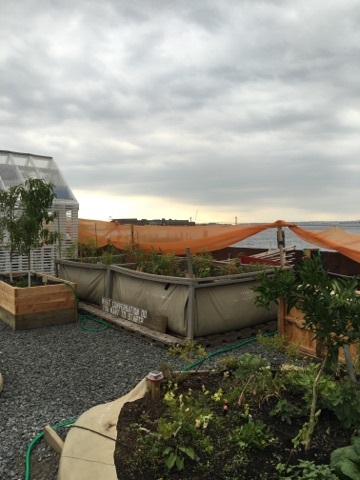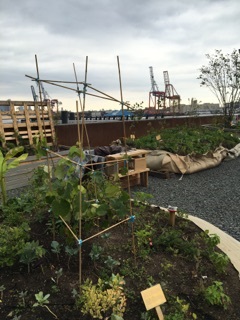 Swale is an exercise in the merging of art and public service, charting the territory of social sculpture and thought experiment. Mattingly writes on Swale's website that:
"By continuing to create and explore new ways of living, we hope that Swale will strengthen our ways of collaborating, of cooperating, and of supporting one another. At its heart, Swale is a call to action. It asks us to reconsider our food systems, to confirm our belief in food as a human right, and to pave pathways to create public food in public space."
In the creation of Swale, Mattingly directs her questioning towards the globalization of the food industry. We depend, she writes, on "large-scale supply chains with little accountability" for our food. The long, often obscured, chain from the farm to table is destructive to our plant and to our bodies, decreasing biodiversity and increasing food scarcity. Swale imagines an intervention in this exhaustive and wasteful supply chain by creating a space for community based economy.
As Mattingly tells Hyperallergic, Swale is an "experimental zone… [in which the participants act in ways that] can be both interdependent and autonomous." This experimental zone in which Swale exists in is additionally creating an access point to New York City's largest common space—the waterways. The choice of building a floating food forest instead of a more traditional land-based project evades the ordinance that forbids the foraging or growing of plants for food on the city's public land. As Swale takes to the open water, it functions in an in-between zone. Operating within the urban and legal infrastructure of NYC, Swale imagines another answer, another way, finding a loophole where there was none.
A white pavilion has been erected on Swale, designed by Terri Chiao and Adam Frezza in collaboration with Biome Arts. The pavilion, named the Greenhouse Theater, will serve as a gallery and a space for meetings and performances during Biome Art's Eco_Hack 2016, which will begin its programming during Swale's stay in Brooklyn. Biome Arts has set up monitors onboard Swale to collect data such as soil acidity and air temperature. The collected data will be turned into semi-abstract digital visualizations that will be re-broadcasted back onto the forest to create a "digital forest."
It is Mattingly's belief that art, her definition of which is complicit with utopian thought—thought that stretches the boundaries of what is acceptable, generates new worlds, further creating potential for new rules and governing systems. Existing as both real and utopian, perhaps like a Foucauldian heterotopia, Swale is a place which inverts what is established and frames a way to see outside of the everyday. Like the work that is being done at Freshkills Park, Mattingly reimagines what can happen, and what is expected to happen, in a given space. These projects allow us to reclaim the utopian nature of place making for ourselves and for our community.
Find out more information about Swale here.
For Swale's location and open hours, check out the calendar.