New Fresh Perspectives newsletter is out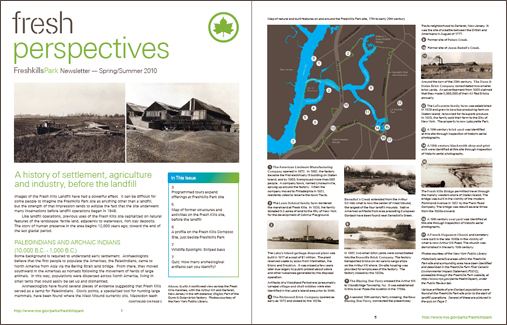 The Spring/Summer issue of the Freshkills Park newsletter, Fresh Perspectives, is up on the official Parks homepage for Freshkills Park.  In this issue are a review of the past year's expanded tour programs at the Freshkills Park site and a profile of the Department of Sanitation's compost facility, located just beside the former landfill, in addition to the cover story, which offers a history of the Fresh Kills area before landfilling began in 1948 and an annotated map of historic activities onsite.
We put this newsletter out every six months and distribute hard copies to various parks and cultural institutions throughout the City, in addition to handing them out on our public bus tours of the Freshkills Park site.  Digital archives of past newsletters are available on the homepage, under the 'More Information' tab.