Recycling Christmas Trees for Myriad Uses
Every January, many cities are stuck dealing with an influx of Christmas trees after they've been removed from cozy homes and cast into the city's waste management system. While Christmas trees may often be left out for landfill dumping, some municipalities and environmentalists have come up with ways to recycle them, keeping trees out of the waste stream.
New York City's annual Christmas tree MulchFest was held on January 10th and 11th. Mulch Fest is an annual event at local parks during which community members bring their Christmas trees to be chopped up and mulched. Last year, tens of thousands of trees were chopped up for use as mulch for street trees in neighborhoods all over the city. Covering tree beds with mulch protects plants from frost and erosion, while inhibiting the growth of weeds and contributing to water retention. Mulch made from evergreen trees can also nourish the soil over time. This helps to keep street trees (such as those planted as part of the Million Trees initiative) strong, and contributes to New York's overall environmental health and aesthetic beauty in neighborhoods.
New York City's MulchFest can be seen as a celebration and symbol of civic pride, as it brings friends and neighbors together to contribute to positive environmental practices in the city. Many parks plan programming and activities to coincide with the tree mulching, like tree identification walks. Folks can also often come away with a bag of mulch to take home. Not unlike Freshkills Park, it also brings the New York City Department of Sanitation and Department of Parks and Recreation together for a common cause. The two agencies have worked together throughout MulchFest's entire 19-year history, as they have also worked as partners for the 14 years since Freshkills was slated to become parkland. It should also be noted that those who did not attend a MulchFest event could also leave their trees for NYC Department of Sanitation to pick up through January 16th. These trees are also recycled.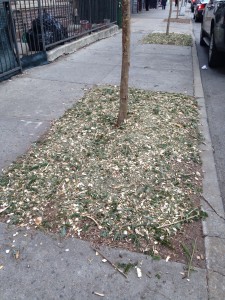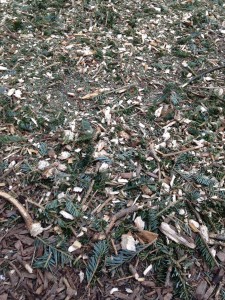 Pictured: Mulch use on Million Trees street tree in Brooklyn, NY
Christmas tree reuse is not unique to New York City, and the potential environmental impact of Christmas tree reuse can go even beyond landfill avoidance and mulch creation. Some cities are using the trees as anchors on beaches, in order to functionally restore the structural services of sand dunes. In shoreline areas around the country, and around the world, sand dunes are more frequently being recognized as natural barriers which protect the inland areas from the destructive forces of storms. Sand dunes are typically kept in place by beach grasses and other plants which anchor the small sand grains in place. However, as beaches are popular places of leisure for New Yorkers and tourists alike, these grasses and other small plants are often tread upon until both the plants have died and the dune is no longer anchored in place. It can be a costly process to restore the sand dunes that take the brunt of intense storm surges. The cost-effective method of using old Christmas trees to create new footing for eroding sand dunes has recently been re-popularized. The technique, abandoned over twenty years ago, places old Christmas trees in patterns that are conducive to sand dune restoration. It serves as a method of coastline protection, as well as another recycling of the decorative trees.