Discovery Day Events in May + June Invite the Public to Explore Freshkills Park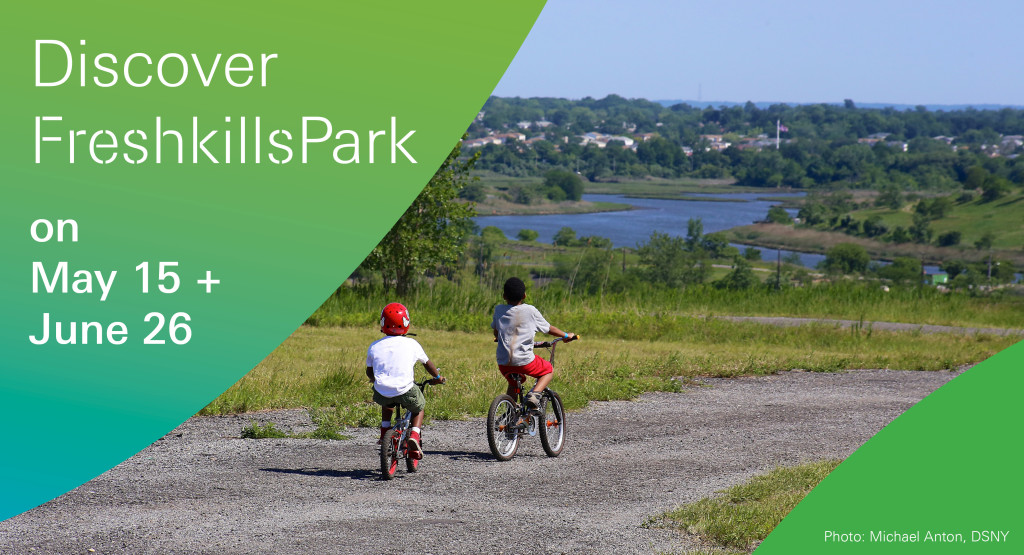 Freshkills Park will offer Discovery Day events on May 15th and June 26th, 2016 from 11am to 4pm. During these free events, 700 acres of the otherwise closed site will be open for tours and recreation.
At 2,200 acres, Freshkills Park is almost three times the size of Central Park and the largest park to be developed in New York City in over 100 years. It also has a significant history as the site of the former Fresh Kills Landfill, which was the largest landfill in the world before closing in 2001. Since then, the landfill has been covered with layers of soil and infrastructure, and the site has become a place for wildlife, recreation, science, education, and art.  As the park is built in phases, free tours and events provide access for learning and exploration opportunities.
During Discovery Day events, eight miles of trails and paths will offer views of the park's hills, creeks, and wildlife. A 5K course will be mapped out for runners and walkers. There will also be shuttle buses into the park and a shuttle to and from the top of a hill that offers panoramic views of New York City.
Visitors of all ages can bring their own bicycle or borrow one at the park to bike across five miles of pavement, including a 3-mile loop along meadows and wetland ponds. Educational tours and displays will cover a variety of topics, including sustainability, ecology, landfill infrastructure, and design. Kayaking tours will also be available with pre-registration required.
Additional tours and events are available between April and November. Join the mailing list and follow Freshkills Park on Facebook, Twitter, and Instagram for details. For event sponsorship and volunteer inquiries, contact freshkillspark@parks.nyc.gov. Presented by NYC Parks, NYC Department of Sanitation, and the Freshkills Park Alliance.
Save the Dates:
Sunday May 15, 2016, 11am-4pm
Sunday June 26, 2016, 11am-4pm
Getting There:
Parking will be just outside Freshkills Park in the lots near 350 Wild Avenue in Staten Island. From there, visitors can take a shuttle bus or walk or bike one mile to the main hub. A free shuttle will also make trips to and from the St. George Ferry Terminal Ramp E (Taxi Stand) during the event.
Park Rules:
Visitors are encouraged to bring water and wear sunscreen.
Visitors may bring their dog on a leash, but please note that there is limited shade at Freshkills Park and dogs are not allowed to ride shuttle buses.
Personal bikes are allowed, but personal kayaks or canoes will not be permitted.
Standard NYC Parks rules apply:

Remain on paved trails
No smoking
No littering
No consumption of alcohol
Do not enter restricted or closed areas
Do not tamper with infrastructure
No unleashed dogs
No feeding or disturbing wildlife
No barbequing or open fires
No unauthorized vehicles or ATVs
No unauthorized commercial activity