Learn with Freshkills Park's Mobile Education Lab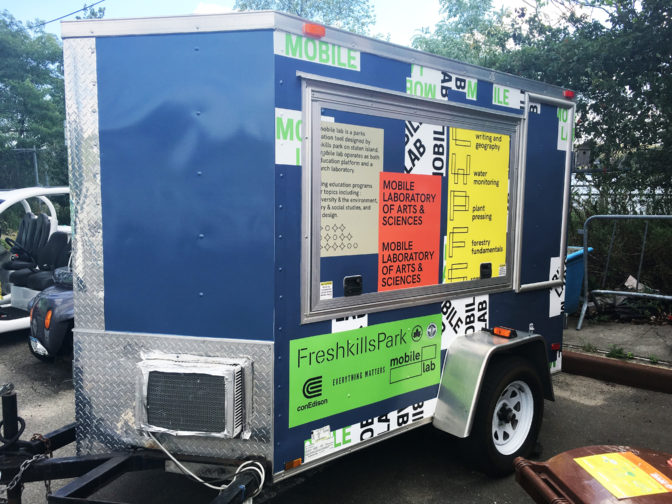 This summer, NYC Parks staff have been working hard to re-imagine education programs at Freshkills Park. The landfill-to-park transformation is a poignant backdrop for education—each day, we witness how ecology, engineering, design, history and social sciences interact to solve 21st century challenges. This inspires us to create innovative, place-based learning experiences that meet state standards and foster critical thinking.
The result of our visioning is the new Freshkills Park Mobile Education Lab. The Lab is a workspace inside a renovated trailer that hosts 1.5-2 hour field trips for 6th-12th grade students across NYC. This fall, educators will be able to choose from four themed field trips that explore art + design, environment + biodiversity, or history + social studies. Each trip will not only introduce or reinforce what students have learned in the classroom, but will show how these topics coalesce in real-life projects like Freshkills Park.
Mobile Lab field trips will be available every Tuesday, Wednesday and Thursday in October. Please contact education@freshkillspark.org for more information or to schedule a trip. If you want to see the Mobile Lab in person, it will be at Freshkills Park' next Discovery Day on September 18th.