LEAF Coordinator: Gaby Kucher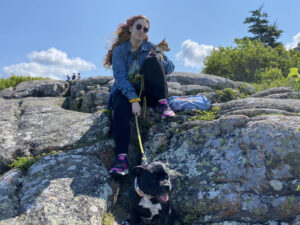 Hi! My name is Gaby Kucher and I am the new LEAF (Learning, Explore, Activate, and Foster) Coordinator, part of City Service Corps! I'm a long-time Staten Island resident and a student at Brooklyn College completing my Bachelor of Science in Earth and Environmental Science. In the future, I plan to pursue graduate studies in Environmental Science and/or Environmental Policy. In my free time I volunteer at an animal shelter and love crafts like candle making.
What are you working on, and why do you think it's interesting/important?
As the LEAF Coordinator I will be working to increase volunteer opportunities at Freshkills Park. This will call for furthering relationships with schools, community organizations, and local individuals to understand the community's wants and needs, as well as how Freshkills Park can help make Staten Island into a place that we can all enjoy. I think this intersectionality is very indicative of the resilience of Staten Island and its people. The story of "trash to treasure" is inspirational and motivates me to do my part in furthering the progress Freshkills Park has made.
What drew you to Freshkills Park?
Growing up I spent summers exploring the forest upstate. I learned about native plants, about what is edible and what is toxic, and about how to be respectful of nature. This formative experience sparked a lifelong love of nature and exploration. Working in a space that is of such importance both socially and environmentally is truly a dream come true.
What is your favorite topic surrounding Freshkills Park and why?
 My favorite topic surrounding Freshkills Park is wetland restoration! Wetlands are incredibly fascinating and beneficial to both humans and animals. Freshkills Park's mission of restoring 360 acres of wetlands is a massive undertaking that is absolutely critical to the wellbeing of surrounding areas. I look forward to seeing the increased species diversity this restoration will bring.
What is your favorite color?
Recently I've been loving the very summery color you see when sunshine directly hits bright green grass. During colder months I gravitate towards bright jewel tones.