Farm To Table, Then What?
We talk a lot about the supply chain of food from the farm to our table, but what about food going from our table back to the farm?

In the past few decades, the farm-to-table movement has grown, with a focus on fresher, more nutritious, in season produce in our kitchens and on menu offerings at restaurants.  While this movement has helped support a boom in local farmers markets and created shorter supply chains, the concept should be expanded.  The journey doesn't stop at the table, food waste, which refers to plate waste, spoiled food, rinds, and inedible parts of produce, can and should travel further.   To bring the Farm-to-Table movement full circle and return nutrients back to the farm, so to speak, we need to support composting efforts.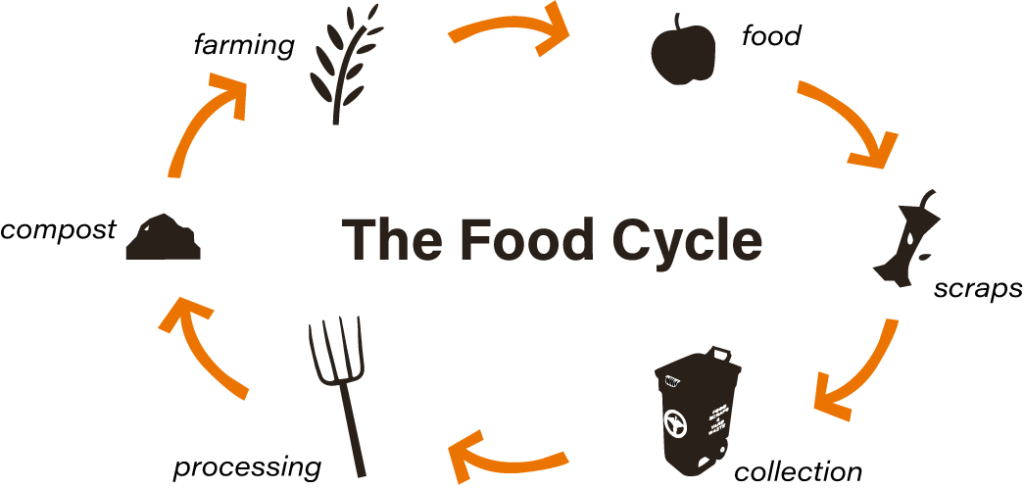 If food waste is treated as traditional household waste, it will be burned or taken to a landfill.  Burning solid waste for energy is a "quick fix" but the facilities are often inefficient, and the energy generated produces greenhouse gases.  When landfilled, food waste decomposes and releases landfill gas containing methane which is  a greenhouse gas 28 times more potent than carbon dioxide.
Composting food waste is a sustainable food management alternative worth pursuing for several reasons.  First, it keeps food waste out of landfills and waste-to-energy facilities, thus reducing their impact. Secondly, composting helps return nutrients to the soil.  By adding compost to gardens, public spaces, and construction sites, you can improve soil health and structure, improve water retention, support native plants, and reduce the need for fertilizers and pesticides.  Studies have also found soil amended with compost improves plant-pollinator interactions, pollinator nutrition, and overall pollination performance.
DSNY's Staten Island Composting Facility, built in 1990, initially accepted leaf and yard waste from landscapers.  Subsequently, in response to the growing understanding of the benefits of organics collection, DSNY piloted a series of food waste collection programs in residential and institutional settings. These studies eventually led to a curbside organics collection program, operated by DSNY.   Now food scraps collected by DSNY and Grow NYC are transported to the Staten Island Facility. Unfortunately, during the Pandemic, the curbside pickup program was put on hold and many residential compost drop-off locations were closed.  Recently some of the 125 residential food scraps drop-off sites have reopened.  And, curbside compost pickup, is scheduled to return in October 2021; to opt into the program, click here.
New York City is committed to a Zero-Waste future and last month DSNY unveiled their new large scale compost bagging machine at the Staten Island Compost Facility, the Hamer Fischbein 2090.   This machine can bag 600 bags of compost a week, thus significantly increasing the efficiency of the composting operation.   As in the past, the high-grade compost created at the Staten Island facility is made available for free to non-profit organizations including community gardens, NYC Department of Parks and Recreation, and other city agencies.  Some compost is sold to landscapers and farmers to support the cities Zero-Waste goals.
So, after the delicious farm to table meal, finish the circle and place your food waste in a compost bin for curbside pickup, or the closest drop-off site.  It is a great opportunity to reduce our footprint and create a more sustainable tomorrow.
Food scrap drop-off sites currently open on Staten Island include:
Staten Island Urban Center; 208 Bay St.; Saturdays, 11 a.m. – 12:30 p.m.
St. George GrowNYC Greenmarket; St. Marks Place and Hyatt St.; Saturdays, 8 a.m. – 12 p.m.
H.E.A.L.T.H. for Youths Skyline Community Garden; 1 Clyde Place; Saturdays, 10 a.m. – 11 a.m.
Snug Harbor Botanical Garden & Cultural Center; 1000 Richmond Terrace; Thursdays, 9 a.m. – 2:30 p.m.
Olivet Heavenly Harvest, 97 Myrtle Ave., Saturdays, 10 a.m. – 2 p.m.