Exhibit on Roosevelt Island garbage system opens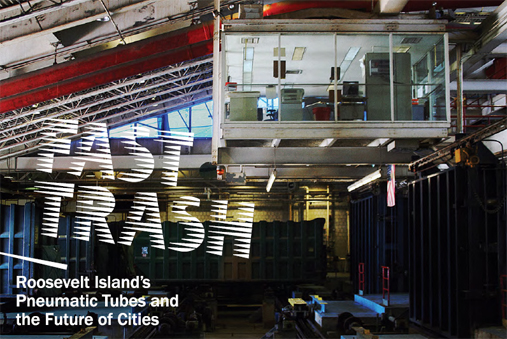 Garbage on Roosevelt Island—the 147-acre strip of land lying in the East River between Manhattan and Queens—is disposed of through a remarkable system of underground pneumatic tubes that was constructed in 1975.  The Island's 14,000 residents empty their trash into a series of garbage chutes which are emptied into the pneumatic pipes several times daily, carrying it at 30 miles per hour to a transfer station at the end of the island. There it is compacted by the Department of Sanitation (DSNY), sealed into containers, and loaded on a truck for private export to a landfill outside the city.  This Automatic Vacuum Collections System (AVAC) collects and exports more than ten tons of waste daily.
A month-long exhibit on the AVAC, its history and its value as a model for future waste management operations opens today at Gallery RIVAA on the Island, with an opening reception this evening.  The show, called "Fast Trash," has been curated by architect Juliette Spertus and the design firm Project Projects (which also designed the signage and visual identity of Freshkills Park).  "Fast Trash" includes explanatory diagrams, video interviews with DSNY engineers who maintain the system, and a selection of  drawings produced through a collaboration between the Center for Urban Pedagogy and students from the Child School, exploring what garbage collection might look like in a future without roads.  The show will also celebrate the 40th anniversary of the 1960 master plan developed for the Island by architects John Burgee and Philip Johnson.  A related panel discussion at the NYU Wagner Graduate School of Public Service called "Comparative Garbage Collection Strategy and Urban Planning" will take place on May 6th.
FAST TRASH: Roosevelt Island's Pneumatic Tubes and the Future of Cities
April 22–May 23, 2010
Opening Reception: Thursday, April 22, 6–9pm
Gallery RIVAA, 527 Main Street, Roosevelt Island