Dan Doctoroff: a legacy in conversation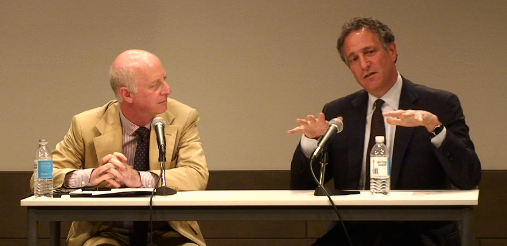 Urban Omnibus recaps (and streams) an Architectural League discussion between Paul Goldberger, architecture critic for The New Yorker, and former NYC Deputy Mayor for Economic Development Dan Doctoroff.  The discussion covers a number of the controversial projects Doctoroff helped initiate before and during his tenure, including the City's failed 2012 Olympics bid, the West Side Stadium project, the Atlantic Yards and congestion pricing.  It also reviews his contributions to the City's sustainability initiatives under PlaNYC 2030, the comprehensive urban program that seeks to provide long-term solutions to increased population while providing for municipal land-use needs.  Doctoroff pointed to hybrid cabs, MillionTreesNYC and the Sustainable Stormwater Management Plan as tangible and valuable outcomes of that program thusfar.
It should be noted that the Freshkills Park site was part of the 2012 Olympics bid (as the venue for mountain biking events), which gave the project a valuable boost despite the bid's own fate.  The project now aims to exemplify practice as outlined by PlaNYC 2030; Doctoroff's legacy is palpable at this site as well as many others in the City.