Cooling art for Times Square hot spot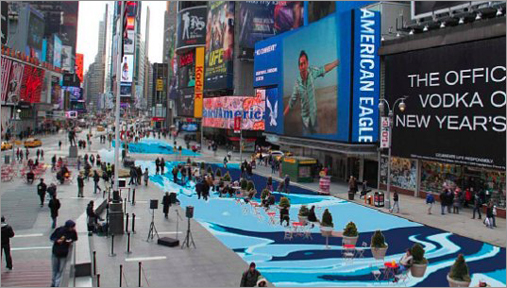 The New York City Department of Transportation has announced the winner of its reNEWable Times Square design competition, aimed to temporarily "refresh and revive" the streetscape of newly pedestrianized Times Square while plans for permanent reconstruction proceed (construction is slated for 1012).  Brooklyn artist Molly Dilworth's Cool Water, Hot Island was selected from 150 submitted designs for the pedestrian zones along Broadway from 47th to 42nd Streets.  The piece is a large-scale painted installation abstractly interpreting—and mitigating!—Manhattan's heat island effect.  From NYCDOT's release:
The proposed design's color palette of striking blues and whites reflects more sunlight and absorb less heat – improving the look of these popular pedestrian plazas while making them more comfortable to sit in. The color and patterns evoke water, suggesting a river flowing through the center of Times Square, and they also provide a compelling visual counterpoint to the reds, oranges and yellows of the area's signature marquees and billboards.
It isn't the artist's first brush with large-scale installations in the City: more of her work is viewable through her flickr stream.  Cool Water will be installed in July.
(via Treehugger)