Connie Fishman on Hudson River Park
Thanks to Connie Fishman and all who attended her talk in our Freshkills Park Talks series two weeks back.  It was an entertaining and educational look at the history and development of Hudson River Park, including a look at the never-realized Westway project and its legacy in the civic discourse about the park.  It was particularly interesting for us to compare with the history and development of Freshkills Park; both are massive waterfront park projects repurposing marine infrastructure and property, of course, but the difference in location as well as previous use/symbolic baggage make for strong contrasts in local advocacy.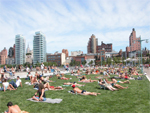 Connie's slideshow is available for download as a PDF (5MB).  You can stream the entire audio of the talk, below, as you page through the slides, or download it directly as an MP3 (55 minutes, 50MB).