A Campfire That Can Light up Your Christmas Tree
Imagine warming your hands at a campfire that is also lighting up a Christmas tree in DUMBO.
What's going on here?
Have you ever felt a regular light bulb after it has been on for a while? It's hot because a side effect of using electricity is that some of the energy is wasted as heat. Unless the heat produced is hot enough to boil water, producing steam that can turn turbines, it is typically wasted. However, an innovative technology called a Peltier Junction can use the difference in temperature between two surfaces to create an electric current. It is this technology that's used in the Biolite stoves to generate electricity with which you can charge your phone or power Christmas lights.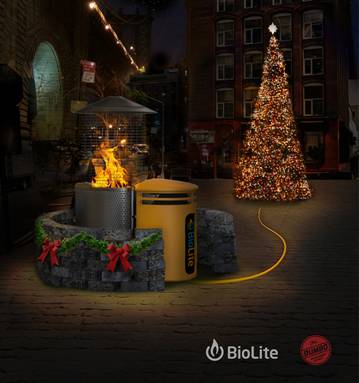 What implications does this technology have?
Fuel Reduction: Transforming waste heat into electricity allows a more sustainable combustion of wood. The electricity produced powers a fan that improves combustion, reducing the fuel needs by 40%. Increasing fuel efficiency represents a needed innovation because one of the major issues with using wood as a renewable resource is overharvesting. At Freshkills we have embraced other forms of renewable energy by transforming the landfill gas produced into methane that heats ~22,000 Staten Island homes and by planning to install the city's largest solar array.
Human Health: The stove produces 90% less smoke, which can improve air quality and decrease health risks. By using profits from their camp stove to subsidize low-cost home stoves, the Brooklyn-based company has started to make this off the grid technology available in several developing countries. Imagine the impact this could have in places where woman have to walk miles to gather wood, wood burning is often done in enclosed huts, and there is limited access to electricity.