Bioswales and green infrastructure for New York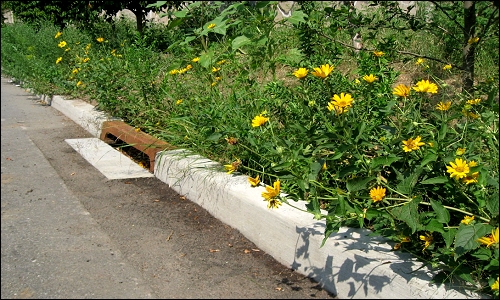 The future of green infrastructure within the New York metropolitan region just got brighter: NY State and City officials announced this week that over $2 billion in public and private investments would be committed to ecologically-sound techniques for the management of stormwater runoff and sewage overflow. Techniques to be implemented include densely-planted green roofs, porous pavement surfaces, and vegetated bioswales, all of which will collect rain water and redirect it from overtaxed combined sewer systems. Billions of gallons of sewage overflows are discharged into New York's waterways each year during periods of even light rain, a result of antiquated municipal engineering known as combined sewage overflows.
An inter-agency initiative to design and implement bioretention swales – in other words, vegetated tree pits – is currently being run by the Department of Environmental Protection, the Department of Transportation, and our own Parks Department. The division plans to construct over 100 plots across the city's sidewalks, medians, and outfalls by the end of the year. Several pilot bioswale plots have already been planted throughout the city, including several near the Gowanus Canal.
Bioswales and other green infrastructure strategies, in their merging of economic and environmental benefits, represent a significant commitment to the adaptive management of cities responding to a future of climate change-induced challenges.
(via Capital New York)