From Behind the Mounds: Meet Cait Field, Research Program Manager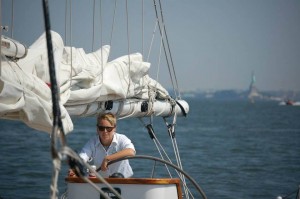 From commercially sailing NYC waterways to conducting doctoral research on South American weakly fish, Cait Field brings experience as a scientist, mariner and educator to her new job as the Freshkills Park Research Program Manager. Cait is currently completing a PhD in Neuroscience and Behavior at CUNY Graduate Center. Her research project examines communication and its hormonal control in South American weakly electric fish, using behavioral techniques in the laboratory at Hunter College. At CUNY she has also taught undergraduate classes ranging from Statistics to General Experimental Psychology. In addition to her graduate work, Cait has worked as a commercial boat captain in the New York City Harbor since 2007. She was even involved in a highly publicized night rescue, where she rescued a man who had jumped off another vessel.
Cait is excited to be able to coordinate research in non-traditional academic settings and to be involved in the restoration of waterways. The unknown aspects of Freshkills Park especially intrigue her. She wants to work on identifying terrestrial, bird, and aquatic populations, potentially setting up public involvement in the project. She also wants to get New York City researchers and students involved in the park, including inspiring graduate students to write their dissertations based on park research. She hopes to be able use the partnerships she has forged with regional universities, museums and maritime preservation organizations to bring many different interests and areas of expertise into Freshkills Park.
She says that working at Freshkills Park will give her the opportunity to "see change in real time, in my own lifetime." She remembers the surprise and enthusiasm of a Staten Island resident who saw deer return to the park, and talks about how important it is to connect New Yorkers to what is going on in their environment. She also talks about her excitement in being able to connect different aspects of her life, from ship captain to teacher to doctoral student, in this new chapter at Freshkills Park.