Community Engagement Coordinator: Ashley Frenkel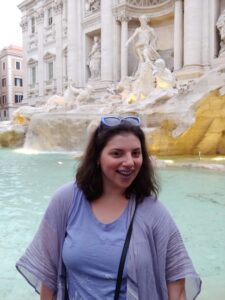 Ashley Frenkel is the Community Engagement Coordinator at Freshkills Park. An educator by training, she's taught in all five boroughs including her birthplace of Brooklyn and her hometown of Staten Island. Ashley has a passion for interdisciplinary and collective learning and believes that at the intersection of art, science, history, and math we can learn to take new perspectives and honor the creativity, self-expression, and experiences of ourselves and others. Ashley is currently working towards her MSEd in Leadership in Museum Education at Bank Street. When she's not busy with school or work, she loves trying new things in the kitchen, reading a good science fiction novel, or working on embroidery and watercolor painting.
What are you working on, and why do you think it's interesting/important?
As the Community Engagement Coordinator my role is directly tied to equity, access, and advocacy. I'm looking forward to working with Staten Island communities, not just those geographically close or demographically widely represented, to make sure people of all races, genders, classes, and backgrounds have an active role and feel ownership in the process of transformation happening at Freshkills Park. I'm really excited to learn from the communities that live on all the shores and create programs with various community organizations, elected officials, schools, housing developments, and other groups to meet the needs of Staten Islanders and grow community grounded in artistic creativity, scientific exploration, and environmental justice. Staten Island can feel like a very divided place at times with a severe lack of resources compared to other boroughs, but I think it's important for Staten Islanders to have a space to learn from one another and shift the popular narrative to create something positive for ourselves and our neighbors whether down the block or across the island.
What drew you to Freshkills Park?
Freshkills Park's transformation from landfill to park as a public resource is a fitting metaphor for the whole borough of Staten Island. This island has such rich culture and nature already, and a lot of potential, but so many people don't know much about it or have a lot of misconceptions about it. Freshkills Park stands out to me as someone who grew up on Staten Island because it's a place that is actively changing and adapting. I also love the integration of art, science, wellness, recreation, education and so much more all in one place. It speaks to how I experience the world and it's just the sort of intersectional approach that I've found to be essential in my work at other cultural institutions when supporting inquiry and dialogue. 
What is your favorite topic surrounding Freshkills Park and why?
Aside from all the wonderful animals at Freshkills Park (did you know foxes have dens in the park?!), my favorite thing about the Park is all the collaboration it has taken and is currently taking to create and activate the vast space. From partnership with the local community in public review sessions, to the DEC and DSNY who make sure Freshkills Park is safe for people and animals, to the past and current work with artists who explore movement and scientists who investigate bird migration, this extended network is a major part of what makes Freshkills Park so special. In different ways Freshkills Park models how cultural institutions of any size or discipline can be in conversation with the public and engage in work rooted in public need and benefit.
What is your favorite color?
If we're talking about crayons I love scarlet or tropical rain forest or periwinkle. In my day-to-day, I'd have to say purples and teals; they're such rich colors that bring out the best of the colors that go into making them.