Get Involved
About the Volunteer Program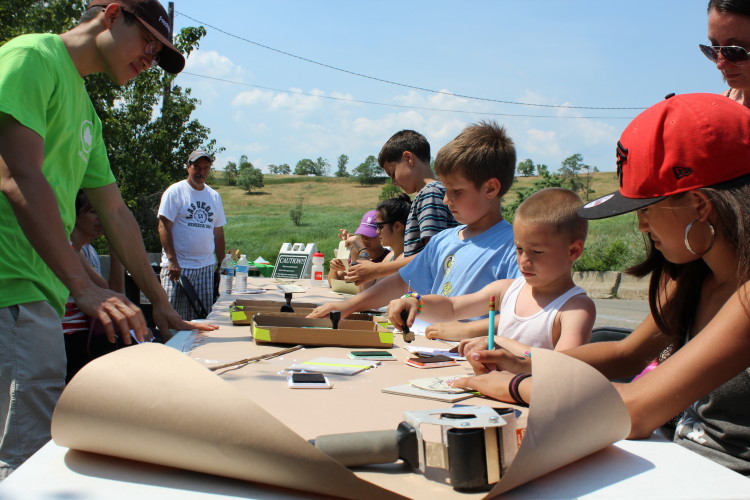 The transformation of what was formerly the world's largest landfill into a productive and beautiful cultural destination is making the park a symbol of renewal and an expression of how our society can restore balance to its landscape. As the Park grows and changes, so too does the public programming. We depend on volunteers to make public programs and events engaging and informative. Join the Volunteer Mailing List to learn about future opportunities and become part of our growing volunteer program. For more information about the following opportunities, email volunteer@freshkillspark.org.
Freshkills Park Event Assistant
Help people explore the future park during public events. Assist with event setup/breakdown, visitor services, and activities on days when sections of the site are open for tours and recreation.
Schmul Park and New Springville Greenway Cleanups
As sections of Freshkills Park open, volunteers are a vital part of keeping the Park's green spaces beautiful. Volunteers can remove unwanted plant species from Schmul Park, learning about native and invasive plants and preserve park plant diversity. Volunteers can also help remove litter along the New Springville Greenway, Staten Island's new bike and fitness path along Richmond Avenue.
Water Monitoring
Collect scientific data and contribute to research projects at the site. Ongoing research at Freshkills Park assesses the health and vibrancy of plant and animal species at this transforming site and within the NYC ecosystem.
Corporate Volunteer Opportunities
The Freshkills Park Corporate Volunteer Program provides a unique chance for corporate teams to learn about and experience the Park, contribute to the maintenance and well-being of its amenities and facilities, and support the efforts of the Freshkills Park Alliance as it champions the largest landfill to park transformation project in the world. Opportunities are led by a hands-on staff with training in the park's history and future development as well as experience working with volunteers on a wide variety of projects. Activities might include shoreline clean-ups, greenway beautification, painting, or helping with special public events.
Volunteer Resources
Mailing List – Join the Volunteer Mailing List to learn about future opportunities and become part of our growing volunteer program.
Freshkills Park Orientation Guide – This guide has been developed to give volunteers some highlights about the Park, its history, and current projects. It covers Freshkills Park's volunteer opportunities, wildlife, programs & events. history & landscape, infrastructure & design, and completed & upcoming construction projects.
Volunteer Survey – If you have volunteered at Freshkills Park in the past, please take a few minutes to fill out the survey and help staff improve the volunteer experience.