Robert Wallace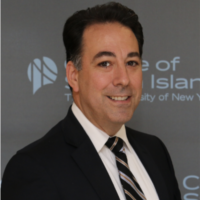 Robert Wallace is the President of the College of Staten Island (CSI) Auxiliary Services Corporation and Interim Vice President for CSI's Office of Economic Development and Government Relations.   Robert started with the College in 2017 as Executive Legal Counsel. In 2018, he assumed the added responsibilities of Chief-of-Staff/Deputy to the President. Prior to joining the College he served as an Assistant Commissioner/Deputy General Counsel at the FDNY for 11 years, overseeing their Bureau of Investigations and Trials and the Bureau of Legal Affairs.  
 From 2003 to 2006 Mr. Wallace served as Associate General Counsel at the New York City Department of Homeless Services where he counseled managerial and executive staff on employment matters including EEO, FMLA, and civil service law and was key member of a legal team that ended 22-year court oversight of the City system through attainment of unanimous recommendation from court-appointed Special Master Panel. 
 Prior to this appointment he worked as an Assistant District Attorney in the New York County District Attorney's Office from 1997 – 2003 under Robert M. Morgenthau. 
 A lifelong Staten Islander, Robert resides in Eltingville. He also serves on the New York State Small Business Development Board (SBDC)