Wetland restoration on former landfill (with a little help from goats!)
With the support of a New York State Environmental Protection Fund Local Waterfront Revitalization Program grant, the Department of Parks & Recreation is undertaking restoration of two acres of wetland habitat along Main Creek within Freshkills Park that will include goat grazing as a method of invasive plant control. This pilot project will provide guidance for further wetland restoration projects within the 2,200-acre site, which is the largest landfill-to-park transformation project in the world.
The project seeks to lessen the current erosive impacts at the shoreline while planting native species to enhance habitat value and prevent the return of Phragmites, a highly invasive species. It will create a wider band of salt marsh habitat and a mosaic of coastal habitat including coastal grassland for a variety of marine, avian and wildlife species. The project will stabilize the shoreline to provide additional protection for habitat from potential climate change and sea level rise and will improve water quality through increased interface between coastal plants and tidal waters.
Prior to the wetland construction, a herd of goats will perform conservation grazing to clear invasive plants from the site, particularly Phragmites. Prescribed goat grazing is more common in the rangelands of the western U.S., but is being used more often in the eastern half of the country and in more urban areas, including Governors Island and Ft. Wadsworth in New York City. Benefits of utilizing goats for prescribed grazing include:
Goats are adept at accessing fence borders, steep slopes and other "hard to reach" plots.
Although goats produce low levels of methane, they emit far less greenhouse gases than traditional "spark-ignition" lawn mowers.
Research suggests grazing animals encourage root growth and denser sod cover.
Correctly managed, animal waste is a source for free, organic fertilizer.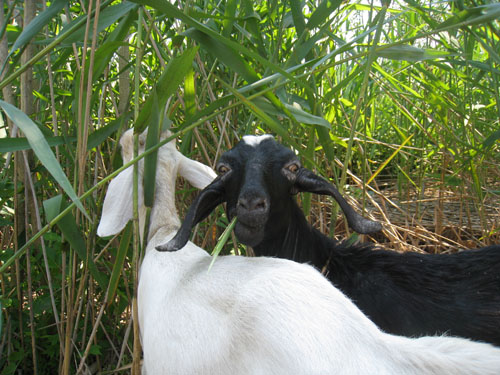 The pilot project will be monitored for success in Phragmites eradication and reintroduction of native plant species. For more information on the Main Creek Wetland Restoration and other projects at the site, visit the Freshkills Park website.