Island landfill a triumph, but also a possible risk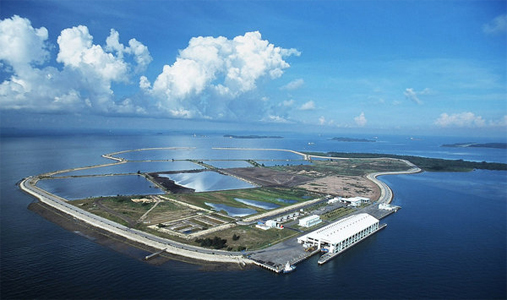 The New York Times reports on Pulau Semakau, the island that serves as Singapore's only landfill–and one of its premier eco-tourism destinations.  Solid waste is incinerated on mainland Singapore and sent to the island via covered barges. The ash is then transferred by truck into an active "cell," which has been sectioned off and emptied of sea water. Waste is dumped and compacted until it reaches ground level, at which point a layer of dirt and greenery is added, and a new cell is created. The landfill is planned to remain active until 2045.
The site is an engineering marvel, but it also remarkably boasts thriving habitat and wildlife that drawn tens of thousands of visitors annually–to an active landfill!  The Times keeps reality in check by noting that there has been vocal international opposition to waste incineration, relied upon especially on island nations like Singapore that have limited space, because of toxins and pollutants released into the atmosphere through the process.  A reminder of the problematic environmental calculus involved even in good faith efforts toward responsible waste management.