Sign up for the July Kayak Tour before it fills up!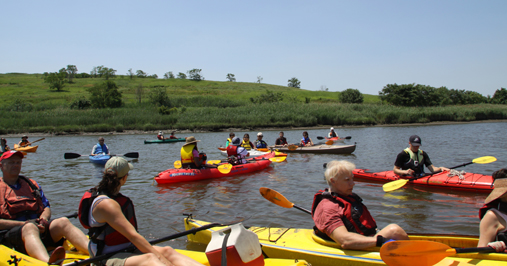 Join us on Sunday, July 8, as members of the Freshkills Park team, with assistance from Kayak Staten Island and generous support of the Downtown Boathouse, guide you through the creeks of Freshkills Park via kayak.
The tour will last two hours and is free of charge. Start time is 9:30 a.m. Kayaks, life vests and safety training will be provided. Most of the provided boats will be 2-person kayaks, so please note that if you come alone you may be paired with another attendee.
Meeting location is accessible only by personal vehicle (location and directions will be provided upon confirmation); there is no bicycle or public transit access at this time. This tour will be limited to participants ages 18 and up. Limit two spots per request.
Sunday, July 8, 9:30 a.m. at the Freshkills Park site. Free. Space is very limited; RSVP required. Please email michael.callery@parks.nyc.gov or call (212)788-8277 to reserve a spot.