Norman J. Levy Park and Preserve, Merrick, NY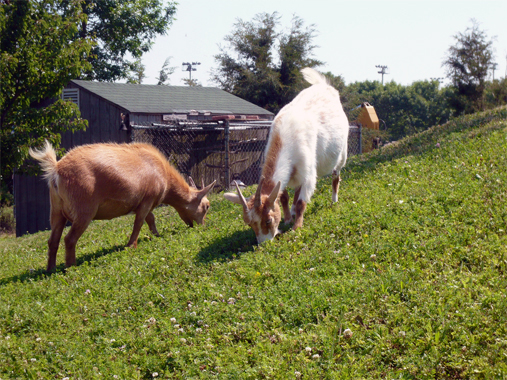 On Friday, the Freshkills Park Development Team took a field trip to the town of Hempstead on Long Island to check out the Norman J. Levy Park and Preserve, formerly the Merrick Landfill.  We were drawn to the site by its herd of Nigerian dwarf goats, purchased in 2009 and herded by park rangers to eradicate invasive weeds and overgrowth at the site (The initial herd of five had recently given birth to nine kids, and the names of these kids were announced on Friday, too).  These are extremely adorable creatures, as our flickr photo set attests.  The park also has a flock of guinea fowl, which they deploy to control the site's tick population.  We were interested in both strategies as sustainable measures that can be used to manage big pieces of public land, and we're hopeful that the future holds an opportunity to invite herded animals to the site for management of undesirable plant or insect populations.  It's a strategy that has been growing in popularity.
While we were at the Park and Preserve, we were given a great tour by Head Ranger Sue and Sanitation Deputy Commissioner Michael McConnell—via high-class electric jitney!  The 52-acre site was an operating municipal landfill from 1950 to 1984 and was redeveloped, according to a plan overseen by engineering firm Lockwood, Kessler and Bartlett, between 1994 and 2001.  It has been open to the public since then, and it's really quite beautiful, drawing about 55,000 visitors annually.  Features include a 500-foot fishing pier stretching out into Merrick Bay, three miles of hiking and jogging trails with exercise stations along the way, composting toilets, an outlook with views out across the entire region, and even a windmill-aerated pond at the top of the 115-foot landfill mound.  It's not quite the same type of park that Freshkills Park will be: our tour guides were clear in emphasizing that Norman J. Levy is a preserve, and there are no bikes, rollerblades or dogs allowed.  Even so, we gained much insight from understanding their development process and their operational structure.