Mexico City's Trash for Greenpoints program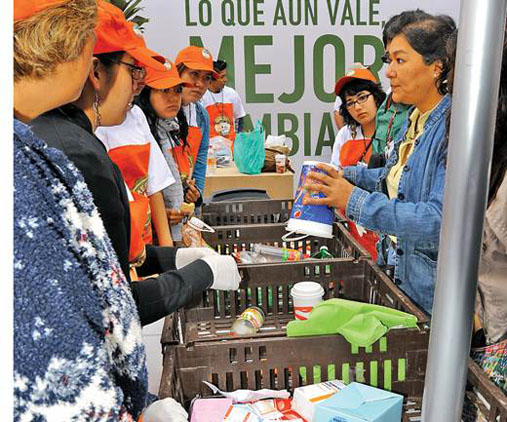 Continuing with the increasingly popular efforts to become a more sustainable metropolis, Mexico City has initiated a new barter-style market in which residents can trade recyclable materials for locally grown foodstuffs.
The opening of the new government sponsored (website in Spanish) market follows similar events lauded by environmentalists such as the closure of the Bordo Peniente Landfill, and green vertical gardens which we've previously blogged about.
Residents may bring materials such as aluminum cans, cardboard and paper, glass,  and PET plastic bottles to the market in return for "green points." These points can be redeemed for agricultural products grown in and around Mexico City such as lettuce, spinach, prickly pears, tomatoes, plants, and flowers.
"The intention is to encourage and support the producers of soil conservation in order to raise public awareness of the local supply," writes the Ministry. "It's important to consume local products to avoid large shipments of goods, reduce the carbon footprint, generate fair trade and maintain agricultural lands south of the city."
Different materials are worth different amounts of "green points." The market operates once a month and nearly sold out at its grand opening.
(via fastcoexist)