Hybrid ferry to debut next year in New York Harbor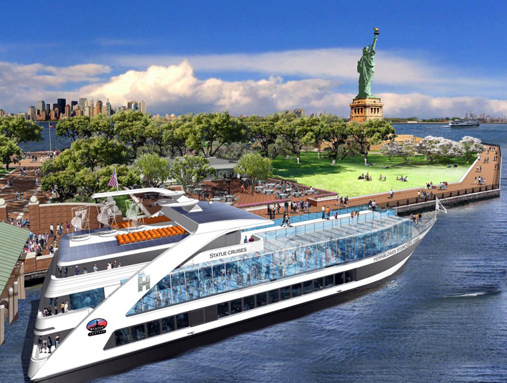 A new ferry equipped with emission-reducing technologies will soon make its appearance in New York Harbor, transporting visitors to the Statue of Liberty and Ellis Island. The 600-passenger New York Hornblower Hybrid will be powered by a combination of hydrogen fuel cells, solar panels, wind turbines and diesel engines that meet EPA Tier II emissions standards.  In addition to using sustainable energy, the Hornblower will be outfitted in a number of environmentally sensitive materials: recycled glass countertops, LEED-certified carpet and aluminum wall coverings, LED lighting and video screens, low-VOC paints for the boat's exterior. The developers of the hybrid ferry have also partnered with the EPA in the testing of copper-free and other alternative paint formulas that might have lesser impacts on marine ecosystems.  The ferry is being built by Derecktor Shipyards in Connecticut, and its construction is expected to be completed by April 2011.
While there have been no plans announced for a major overhaul of the Staten Island Ferry fleet, retrofits that started in 2005 have reduced particulate emissions, nitrogen oxides and carbon monoxide from several of the ferries.
(Via CleanTechnica)