Get Involved: Volunteer with Freshkills Park!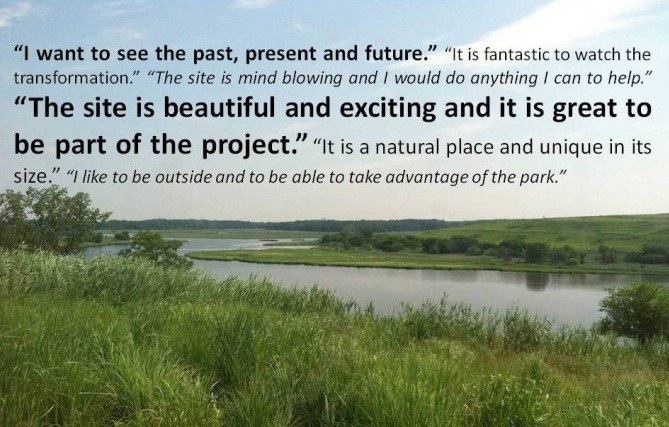 The Freshkills Park Office has started planning for the 2016 season and we're excited to welcome new and returning volunteers to our growing community.  Your help during public events will make it possible for thousands of people to visit and learn about closed sections of the park. You can also help remove weeds and keep open sections of the park beautiful, and this year there is a new opportunity to participate in the initiation of our citizen science monitoring program.
New and returning volunteers are encouraged to attend the spring Volunteer Meeting.  The meeting will provide an exclusive look at upcoming events and information about how to be involved this year.
Thursday, March 10th
6:00 pm – 7:30 pm
St. George Public Library
The transformation of what was formerly the world's largest landfill into a productive and beautiful cultural destination is making the park a symbol of renewal and an expression of how our society can restore balance to its landscape. As the Park grows and changes, so too does the public programming. We depend on volunteers to make public programs and events engaging and informative.
There are three different ways to volunteer in 2016:
Event Support 
Help people explore the future park during public events. Volunteers assist with event setup/breakdown, visitor services, and activities while sections of the site are open for tours and recreation.
Weed Warriors
Remove litter and unwanted plant species from Schmul Park and the New Springville Greenway. Sign up for Park Restoration/Weed Warriors volunteer days to learn about native and invasive plants, preserve park plant diversity, and keep the Park's green spaces beautiful.
Citizen Scientists
This summer, volunteers can visit Freshkills Park to collect scientific data and contribute to ongoing research at the site. Ongoing research at Freshkills Park assesses the health and vibrancy of plant and animal species at this transforming site and within the NYC ecosystem.
The Volunteer Meeting will be at the St. George Public Library on Thursday, March 10th at 6pm. Food and drinks will be provided.
RSVP and let us know you're coming.
To stay up to date on volunteer opportunities at Freshkills Park, join the volunteer mailing list.