Gas Works Park, Seattle WA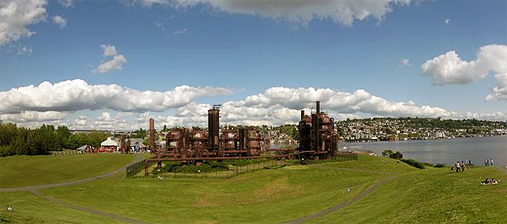 Gas Works Park in Seattle, WA is located on the 19.1-acre site of a former Seattle Gas Light Company coal gasification plant.  The plant opened in 1906 and closed in 1956 when the City switched to natural gas.  The site was abandoned for several years until the City purchased it in 1962; a design combining elements of historic preservation and park design was commissioned from landscape architect Richard Haag in the early 1970s.
The design was remarkable, especially at the time, for retaining and showcasing original infrastructure of the abandoned gas production facilities.  (The site now hosts the last extant remnants of coal gasification plants in the US.)  Various industrial facilities within the park were converted for new uses: the boiler house, which provided steam for gasification and compressors, became a picnic shelter; the pump house, which pumped gas throughout the facility and to customers, became the play barn; the smoke arrestor hood outside the pump house became a play structure for climbing.
An early brownfield reclamation project, the site's soil and ground water were cleaned up through bioremediation before the site could be opened for public use.  Per state and federal requirements, waste was also removed and/or capped, and air in a portion of the site was sparged to remove benzene.  The park opened in 1975 and has been well used and loved since; today it hosts one of Seattle's largest Fourth of July fireworks events.