From Behind the Mounds: Volunteering at Freshkills Park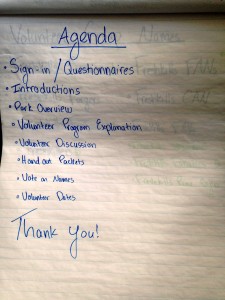 As Freshkills Park's programming season is getting underway, so is its volunteer program. From an informational meeting in March to the park's upcoming Discovery Day, things are just heating up!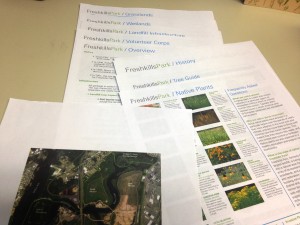 March 19th marked Freshkills Park's first Volunteer Informational meeting at the College of Staten Island. All interested volunteers were welcome to come and learn more about site's landfill-to-park transformation, as well as about events coming up that will utilize volunteer support. To end the meeting, folks received volunteer packets and voted on potential names for our volunteer group (the vote was inconclusive, but we did get some fresh ideas!). The meeting was a great success for the park; a committed volunteer group is a key part of a thriving park, and we thank all those who attended and shared their interest, enthusiasm, and ideas with us. We hope it was also fun for the attendees as they got the chance to get better acquainted with each other and the park.
Almost exactly a month later marked our Soarin' Over Staten Island event, which was our April 18th hawk watch and kite-flying day at the top of North Mound. Several volunteers came and helped kids and their families construct and decorate kites. Staff and visitors alike were grateful for their help in filling the skyline with beautiful flying kites! The season is just getting underway. Many more volunteer opportunities will come up over the course of this spring and summer, including park cleanups, special events, and even some citizen science opportunities.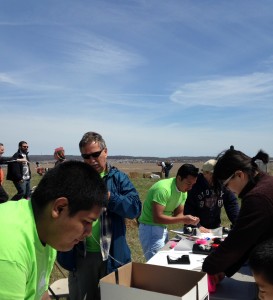 Interested in getting involved? Our next volunteer opportunity is Sunday, June 7th! Called Discovery Day, this event is an opportunity to hike, kayak, bike, and photograph the park. We need volunteers to assist with event set-up and clean-up, and serve as the welcoming and guiding team for the public as they explore, ask questions, and discover Freshkills Park. Go to our volunteer page to sign-up!
It's going to be a great volunteer season at Freshkills Park!