Freshkills Park Visits the Staten Island Museum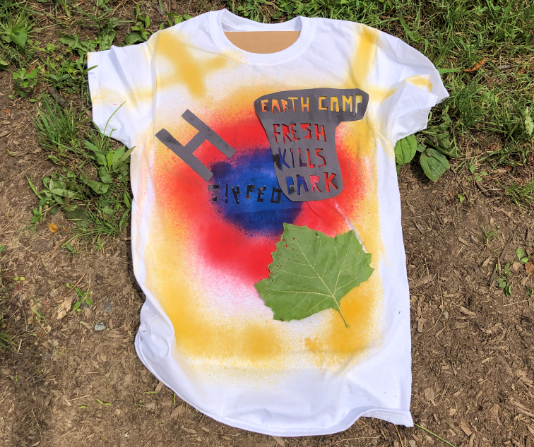 This summer, Freshkills Park played an active role in children's programming at the Staten Island Museum. Over the course of three workshops, Freshkills Park education staff taught a number of topics ranging from invasive species to plant identification and led arts activities incorporating the natural environment.
In the first workshop, Freshkills Park Education Program Coordinator Terrance Caviness started the day with a nature walk around the trails at Snug Harbor, the museum's new home since 2015. Terrance identified native and invasive plants on the trails for the campers and was pleasantly surprised by the level of knowledge these earth campers already had.
Following the nature walk, Freshkills Park partner artist Ash Ferlito led a cyanotype activity from the Freshkills Park Mobile Lab. Campers used shapes from nature or designed and cut out decorative shapes, pinned them onto tee-shirts, and sprayed light-sensitive paint on top. When the shapes were removed, the campers placed the t-shirts into an emulsion bath and let them dry in the sun, revealing the creative designs they had fashioned (read more about Ash's work with cyanotypes here).
In the second workshop, Freshkills Park staff worked with the S.I. Museum's Middle School STEAM (Science, Technology, Engineering, Arts, Math) Camp participants. In addition to a nature walk, FKP Staff facilitated a natural tie-dye activity. Prior to the workshop, Mariel Villere, Manager of Programs, Arts, and Grants, had prepared a number of natural dyes using beets, coffee grounds, black beans, turmeric, and avocado peels and pits provided by Hole in the Wall. The campers had no shortage of a good time creating imaginative designs and getting their hands dirty with the dyes!
Finally, the series of workshops ended on a high note with campers making plantable paper out of a pulp made from used paper scraps and native wildflower seed. Freshkills Park staff emphasized the theme of productive transformation of what was previously considered trash and sent the campers on their way with seeded paper to be planted at home or used for decorative purposes!