Eel populations return to Staten Island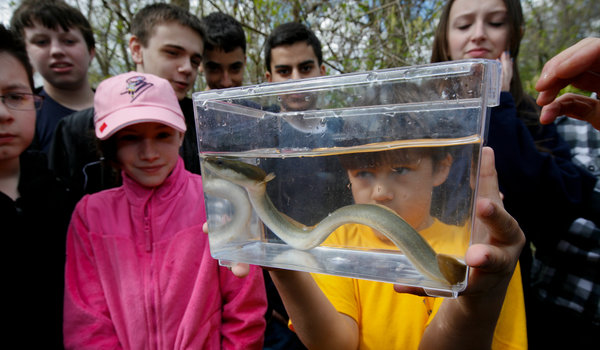 Eel populations are making a comeback in the metropolitan region and along the eastern seaboard.  After years of rehabilitation of the area's waterways, eel populations are showing signs of a resurgence in Staten Island.
Joining the work of the American Eel Research Project, the New York City Department of Environmental Protection has set up a testing site in Staten Island's Richmond Creek, one of the improved waterways.
Richmond Creek, a prominent waterway on Staten Island, originates by La Tourette golf course east of Freshkills Park and weaves its way through the new park to the Arthur Kill on the New York-New Jersey border. An article by the Times cites improved waste management methods as a major reason why the eels have repopulated the cleaner waters – the closure of the landfill significant among them.
The eels, a vital element of the local ecosystem, migrate from the Sargasso Sea near Puerto Rico to various locations along the eastern seaboard. Upon reaching their reproductive age at about 10 years, they return to the Sargasso Sea to spawn. Adults will only make the trip once in their lifetime.
(via New York Times)