Earth Day Million Trees Stewardship Event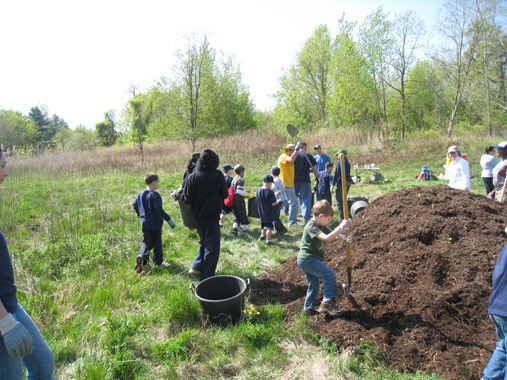 On April 21st, during Earth Day weekend, Freshkills Park hosted our very first volunteer project! Staten Island Boy Scout Packs 5 and 118 (and their parents) tended to the Million Trees planting area in the South Park section of the site.
Equipped with shovels, buckets, and a desire to help the environment, the group of about 25 volunteers weeded the 1/2 acre site, home to 950 infant trees. The newly planted trees were being overtaken by knee-high weeds, infringing on their future growth. The weeding and application of mulch around the base of the trees will help ensure their survival and reduce the need for future maintenance. Mulch – which mimics the 'blanket' of leaves deposited on deciduous forest floors – suppresses weed growth, improves soil structure and nutrients, moderates soil temperature, and helps hold in moisture.
The volunteers were assisted by the great staff at DPR's Natural Areas Volunteers program.
We've posted more photos of the Earth Day weekend volunteer project to our flickr.