Mel Chin's 'Revival Field'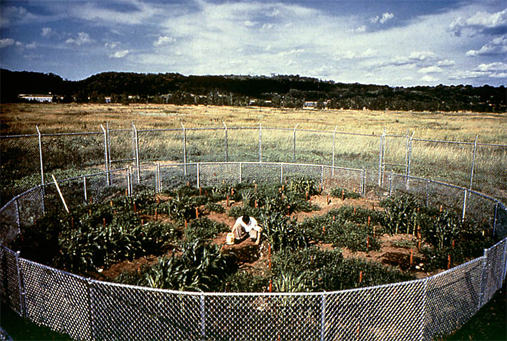 Vulgare recently highlighted artist Mel Chin's Revival Field: Projection & Procedure (1990-1993), a 60 square foot phytoremedation test plot at the Pig's Eye Landfill in St. Paul, Minnesota. While in residence at the Walker Art Center, Chin worked with scientists at the USDA to design gardens of hyperaccumulators—plants that can uptake heavy metals from contaminated soil (at Pig's Eye, the soil was contaminated with cadmium, zinc and lead).
Chin designed a circular field with replicated plantings to analyze the use of six hyperaccumulator and metal-tolerant plants and a variety of soil treatments. Two main walkways divided the field like the crosshair of a rifle scope, symbolizing a targeting of the earth for cleanup. The Minnesota field trial was active from 1990 to 1993. It showed that Alpine pennycress was best at taking in heavy metals, although neither it nor any of the other plants took in metals fast enough to achieve significant cleansing in 3 years.
At present, artists working together with scientists, even on phytoremediation-based projects, is not uncommon.  But in the early 1990s, it was relatively new art practice and grew not just out of scientific interest, but conceptual fascination.  The project, said Chin, "relates to my interest in alchemy and my understanding of transformative processes and the mutable nature of materials. The contaminated soil is transformed back into rich earth, capable of sustaining a diverse ecosystem."  More media and interviews about the project are available through Art21.